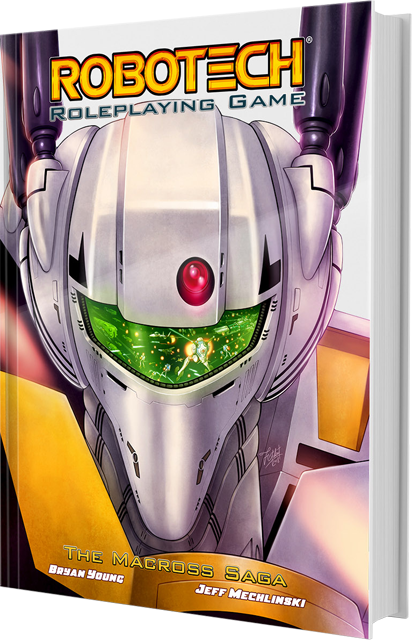 ROBOTECH MACROSS SAGA RPG COMING DECEMBER FROM STRANGE MACHINE GAMES! PREORDER NOW
Coming this December! Strange Machine Games is proud to present the all new Robotech: The Macross Saga RPG!
SPECIAL OFFER FOR ROBOTECH RPG TACTICS WAVE 2 KICKSTARTER BACKERS:
For Palladium Robotech: RPG Tactics Wave 2 backers: Get a free copy of the Robotech: Ace Pilot board game with a purchase of this hardback book. (PDF only purchases do not apply.) To get your free game, please do the following 2 things:
1. Email a SCREENSHOT of your Wave 2 KS order to info@strangemachinegames.com
2. Include your SMG order number - THIS IS VERY IMPORTANT
This offer only available to customers who order through Strange Machine Games' website
MESSAGE FROM WRITER BRYAN YOUNG:
It's a thrilling feeling to know that Robotech: The Macross Saga Roleplaying Game is now available for pre-order. My name is Bryan Young and I'm the co-writer of the new game and I've been toiling on it for more than a year, doing my best to make this something exciting for Robotech fans, something that you're going to want even if roleplaying games aren't your thing.
But I wasn't alone in that work. My co-writer, game designer Jeff Mechlinski, has poured his heart into the book to create a game that everyone would want to play. And artist Fransisco Etchart worked hard to create beautiful illustrations to make every page pop.
Everyone who put their time into the game—from playtesters to beta-readers—loves Robotech, and that's why we worked so diligently to make it special. I've been obsessed with the show since my childhood. It's why I have a kid who bears the name of Miriya. It's why I've been through every episode of the show, reread all of the Jack McKinney books, and went through every source I could find to make this a definitive resource of Robotech information. In the book, you'll find detailed outlines of gaming scenarios for every major battle from The Global Civil War to the launch of Pioneer Expedition and all points in between. But more than that, we wanted players to be able to get in the heads of the characters that inhabit the world of Robotech, which is why you'll find journal entries, interviews, reports, and book excerpts that are first hand accounts of the events of the Macross Saga. There are even two, brand new short stories set during the Macross saga.
Our hope is that it has everything you'd ever want from a Robotech game.
Robotech: The Macross Saga Roleplaying Game is going to hit stores in December, but you can pre-order it now at the Strange Machine Games Website.
ABOUT THE GAME:
The alien menace descends upon the SDF-1 in droves. You, your friends, and the might of Robotechnology are the only things that stand between them and seventy thousand innocent civilians. Do not expect to make it home. Do not expect to see your friends again. Do whatever it takes to ensure humanity's future.
As the cockpit of your VF-1A slowly closes, you hear a small hiss of the compartment pressurizing. The elevator slowly raises. At first all you see is the void of deep space. Then, you see the flight deck. Ahead of you a large swarm of Zentraedi Pods races toward your home. Luckily, you have friends. They will watch your back, or at least, console your love if you don't make it home. Now is your time to do you job. You have a two protoculture driven engines, 200 rounds of exploding ammo, and three transformable modes.
Play as an iconic Robotech Hero, or build your own. Choose from the following careers:
Pilot: Take control of your very own Veritech fighter. Or play as the Zentraedi and take on the RDF!
Entertainer: Do what you do best – keep people happy and confuse the enemy as you dazzle onstage.
Spy: No one knows your real name or your real purposes. Are you helping your friends, or just using them?
Marine: Pilots get the glory, but ground pounders have all the fun. Hey marines have Destroids too!
Technician: Play as a scientist, doctor, or mechanic. Solve the problems that no one else can solve.
Officer: Control your very own Naval Vessel, or help command the SDF-1.
Volunteer: You have chosen a cause, and wish to help. What does a civilian like you bring to the table?
The Robotech: Macross Saga RPG is 264 pages of amazing full color art goodness. Fans of Robotech will not be disappointed. Along with the rules, is a 50 page Scenario section that outlines the entire Robotech: Macross Saga. Take action along with your favorite heroes or villains, or play as them. The unique system allows for personal level, mecha level, and naval level action. Take on conflicts and drama to secure your future and get the SDF-1 home. Every turn, with every action, you have something interesting to do.
264 Page, Full Color Hardback Book
Play as your favorite Macross Saga Character, or make up your own.
Pilot any Mecha, Vehicle, or Naval Vessel from the Macross Saga.
150+ Original Art Images!
Free PDF copy from DTRPG!
Written by Jeff Mechlinski & Bryan Young
Along with the amazing art and scenarios are short stories about the Robotech Universe. Immerse yourself in the fiction.
PREORDER NOW FROM ROBOTECH.COM! SHIPPING DECEMBER!
ALTERNATE MIRIYA COVER VERSION ALSO AVAILABLE!
$20 DIGITAL VERSION AVAILABLE THROUGH STRANGE MACHINE GAMES
GALLERY: