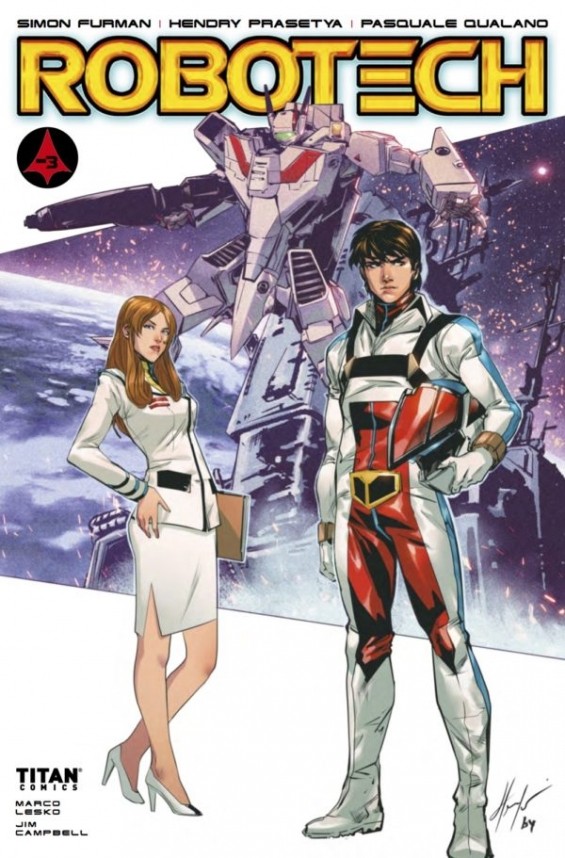 ROBOTECH #18 OUT TODAY ONLINE AND IN STORES!
Robotech #18 (from Titan Comics, who else?) hits comic book stores and online outlets today - March 6th. Earth... is in BIG trouble, as Dolza unleashes the full might of the Zentraedi fleet on the already beleaguered planet. And the SDF-1... is nowhere to be seen! The countdown to our era-spanning, epoch-defining Robotech event (Event Horizon) continues!

BLEEDING COOL'S REVIEW:
I am still pretty thrilled with Titan Comics' re-imagining of Robotech, that stalwart nostalgic defender of early '80s anime adaptations. The team behind Robotech has taken some daring chances in their storytelling, and so far have made a very well-traveled path seem new and unpredictable without losing track of what makes the journey worth taking in the first place.
Simon Furman has once again pulled the rug out on me with a major revelation regarding Lyn Minmei that somehow has her make freaking sense in the story… Minmei has always been something of a weak link in the mythos of Robotech, since she somehow becomes the ultimate earth weapon against the Zentraedi, and she's kind of a nobody. Now, well, my head is lit up. I'm not going to spoil it for you, just read it. It's a fantastic reveal.

AVAILABLE ONLINE THROUGH COMIXOLOGY:
https://www.comixology.com/Robotech-18/digital-comic/742921?ref=c2VhcmNoL2RldGFpbC9kZXNrdG9wL2dyaWRMaXN0L2l0ZW1zU2VhcmNoRGV0YWlsTGlzdA
AVAILABLE IN YOUR LOCAL COMIC STORE
http://www.comicshoplocator.com/storelocator

GALLERY: