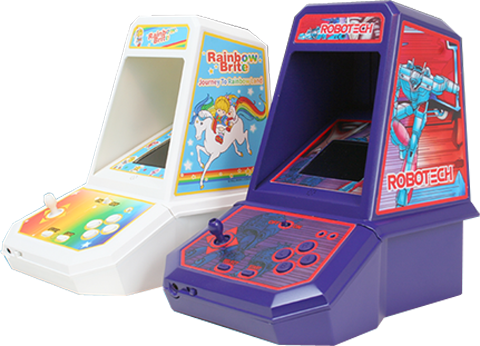 Coleco Robotech mini arcade game Kickstarter
In 1981, Coleco released a line of mini arcade machines that changed the way we played arcade games forever. For the first time, people could experience Pac-Man, Frogger, Donkey Kong, and many more classics outside the arcade. For years, we've heard your requests to bring this classic arcade machine back to life for a new generation. Well, the wait is over!
Introducing Coleco Evolved.
Coleco Evolved Mini Arcade machines preserve the classic shape and heavy-duty plastic shell construction you remember from the 80s while updating the technology inside to create a modern arcade gaming experience.
Coleco Evolved machines feature:
Full Color LCD Display
Powerful new gaming chip set
Revamped joystick and accurate action buttons
Rechargeable Lithium Ion battery pack
Highly-detailed, colorful Rainbow Brite and Robotech art wraps
It's Retro done right!
Robotech made its Pop Culture splash down (literally!) in 1985 when Harmony Gold released their epic 85-episode Robotech cartoon series. The series' success paved the way for toys, figures, books, movies, and of course, videogames!
Robotech the Macross Saga puts players in the driver's seat as Earth's last defense in an epic intergalactic battle against alien forces. PLayers transform their Veritechs into 3 modes: Fighter, Guardian, and Battloid to battle on the ground, in the air, and on enemy ships. Each level challenges players to pick the right mode at the right time to successfully take down all sorts of different enemies.